I don't know about you, but I'm always intrigued about the British Royal family and these books about them include everything from history, politics, revolutions, glamor, gossip, romance, love affairs, scandals, power plays, tragedy, betrayals and jealousy. There's been much written about the British royal family over the years, especially lately with Prince Harry's memoir Spare released this year.
Harry says his book Spare is his story and in it he details many intimate moments in his life, including his strained relationships with his father, the current King of England and his brother, William, the heir to the British throne. There is even a scene where the two princes, Harry and William are having a physical fight. Harry claims that when he was born his father King Charles, thanked Princess Diana (his mother) for giving him a spare and said "you've given me an heir and a spare. Now my work is done." It's been said that the unifying theme of the book is Harry's resentment at being a spare and some believe this is a revenge book.
Whether you agree with Harry or not for throwing some shade on his royal family, his book has made quite an impact. Spare sold more than 1.43 million copies in all formats in the United States, Canada and Britain, including pre-orders, according to its publisher. The figure marked the largest first-day sales for any nonfiction book ever published by Penguin Random House, the world's largest publisher. Harry reportedly signed a $44 million deal with publisher Random House to write three books.
Spare didn't sell well because it's the best written book in the world. It sold well because of its tantalizing topic, the royal family. Everyone wants to know what goes on behind the scenes in the royal household. Although one major criticism of his book, besides throwing shade on his family, is that it's a one-sided story. He only tells you things from his perspective.
However, Prince Harry's book isn't the only book written on the royal family. There are many more than you think. There is much royal intrigue and history in these books, which makes them a very interesting read.
Disclaimer: As an Amazon Associate I earn from qualifying purchases.
Prince Harry, The Duke of Sussex
Release Date: January 10, 2023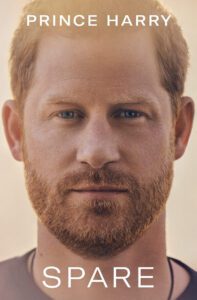 It was one of the most searing images of the twentieth century: two young boys, two princes, walking behind their mother's coffin as the world watched in sorrow—and horror. As Princess Diana was laid to rest, billions wondered what Prince William and Prince Harry must be thinking and feeling—and how their lives would play out from that point on.
For Harry, this is that story at last. Before losing his mother, 12-year-old Prince Harry was known as the carefree one, the happy-go-lucky Spare to the more serious Heir. Grief changed everything. He struggled at school with anger & loneliness.
Tom Bower
Release Date: August 25, 2022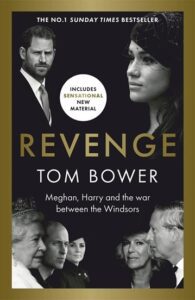 After a childhood spent on Hollywood film sets, Meghan Markle fought hard for stardom. But even when she landed her breakthrough role on Suits, her dream of worldwide celebrity remained elusive until she met the man who would change her life—Prince Harry. Their whirlwind romance culminated with Meghan's ultimate fairy tale ending: their 2018 wedding at Windsor Castle. Finally, the world was her stage.
It seemed that the dizzying success of the wedding between the new Duke and Duchess of Sussex marked the beginning of a fresh era for the British Royal Family. Yet, within one tumultuous year, the dream became a nightmare.
Tina Brown
Release Date: April 26, 2022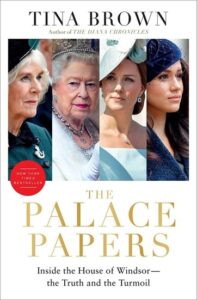 Picking up where Tina Brown's masterful The Diana Chronicles left off, The Palace Papers reveals how the royal family reinvented itself after the trau­matic years when Diana's blazing celebrity ripped through the House of Windsor like a comet. Brown takes readers on a tour de force journey through the scandals, love affairs, power plays, and betrayals that have buffeted the monarchy over the last twenty-five years. We see the Queen's stoic re­solve after the passing of Princess Margaret, the Queen Mother, and Prince Philip, her partner for seven decades, and how she triumphs in her Jubilee years even as family troubles rage around her.
Christopher Andersen
Release Date: November 30, 2021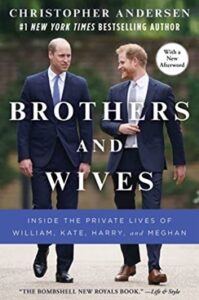 Diana's Boys revealed the powerful bond between the teenaged princes, and how it strengthened even more in the wake of their mother's tragic death. Now, twenty years later, Queen Elizabeth II is in her mid-nineties, Prince Charles is in his seventies, and all eyes are turned increasingly toward William and Harry again. Christopher Andersen picks up where he left off, covering everything that has happened to the brothers as they have grown up, gotten married to two remarkable women, and had children—all while facing continual waves of controversy and questions about the ways their relationship has shifted.
Tina Brown
Release Date: June 12, 2007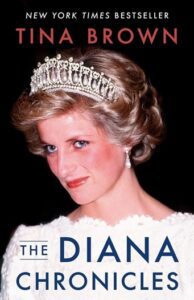 In The Diana Chronicles, you will meet a formidable female cast and understand as never before the society that shaped them: Diana's sexually charged mother, her scheming grandmother, the stepmother she hated but finally came to terms with, and bad-girl Fergie, her sister-in-law, who concealed wounds of her own.
Most formidable of them all was her mother-in-law, the Queen, whose admiration Diana sought till the day she died. Add Camilla Parker-Bowles, the ultimate "other woman" into this combustible mix, and it's no wonder that Diana broke out of her royal cage into celebrity culture, where she found her own power and used it to devastating effect.
Sally Bedell Smith
Release Date: January 10, 2012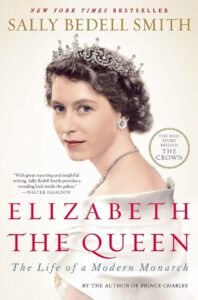 From the moment of her ascension to the throne in 1952 at the age of twenty-five, Queen Elizabeth II was the object of unparalleled scrutiny. But through the fog of glamour and gossip, how well did we really know the world's most famous monarch? Drawing on numerous interviews and never-before-revealed documents, acclaimed biographer Sally Bedell Smith pulls back the curtain to show in intimate detail the public and private lives of Queen Elizabeth II, who led her country and Commonwealth through the wars and upheavals of the last twentieth and twenty-first centuries with unparalleled composure, intelligence, and grace.
William Shawcross
Release Date: October 21, 2009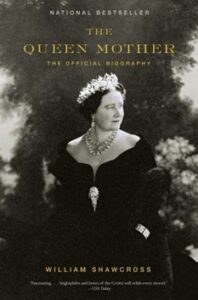 Consort of King George VI, mother of Queen Elizabeth II, and grandmother of Prince Charles, Elizabeth Angela Marguerite Bowes-Lyon—the ninth of the Earl of Strathmore's ten children—was born on August 4, 1900, and, certainly, no one could have imagined that her long life (she died in 2002) would come to reflect a changing nation over the course of an entire century.
Vividly detailed, written with unrestricted access to her personal papers, letters, and diaries, this candid royal biography by William Shawcross is also a singular history of Britain in the twentieth century.
Julia Baird
Release Date: November 22, 2016
When Victoria was born, in 1819, the world was a very different place. Revolution would threaten many of Europe's monarchies in the coming decades. In Britain, a generation of royals had indulged their whims at the public's expense, and republican sentiment was growing. The Industrial Revolution was transforming the landscape, and the British Empire was commanding ever larger tracts of the globe. In a world where women were often powerless, during a century roiling with change, Victoria went on to rule the most powerful country on earth with a decisive hand. Victoria was an ordinary woman thrust into an extraordinary role.
Caroline Blackwood
Release Date: October 2, 2012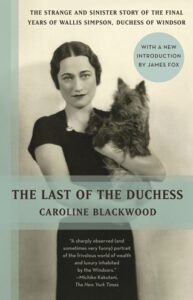 In 1980, Lady Caroline Blackwood was commissioned by The Sunday Times to write an article on the aging Duchess of Windsor, who was said to be convalescing in her French mansion in the Bois de Boulogne. Yet what began as a curiosity was to become for Blackwood one of the most challenging experiences of her writing career, launching her into a battle of wits with the Duchess's formidable lawyer, Maître Suzanne Blum. Maître Blum refused to let Blackwood near the Duchess, spinning elaborate excuses as to why she was unavailable and threatening anyone who dared suggest that she was in anything other than the best of health.