If you want to polish your writing you've come to the right place. Whether you're writing an email, blog posting, or great novel you may want to review this post of common writing errors. It will help you communicate more clearly and accurately. Remember, the best writing follows the rules of grammar and is clear, consistent and coherent.
In our work as editors we see the same mistakes repeated. We want to help you learn the grammar rules and adopt best practices so your writing will shine.
These are some common writing mistakes.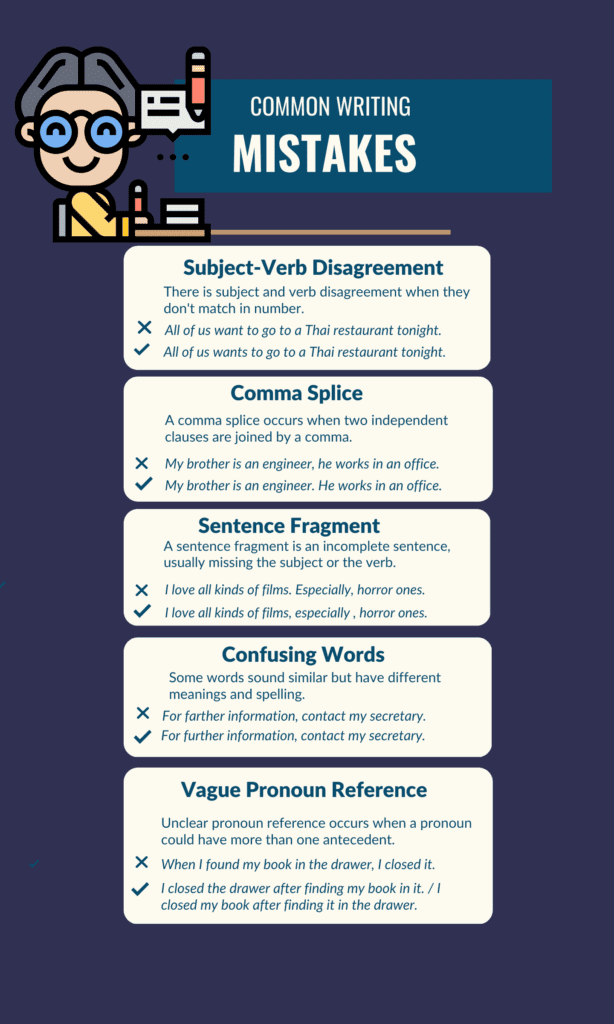 Intro is Too Long
Cut to the chase. Get to the point. The lede is the most challenging part of whatever it is you're writing. If you're writing for the web it needs to quickly hook the reader to continue reading. Also, does the lede have the right keywords you're targeting for SEO?
Avoid Jargon
No one wants to read jargon and not know what you're talking about.
Use Active Voice
Active voice is more direct and stronger, whereas passive voice can make a sentence more wordy.
Too Wordy
Get rid of needless words. Make your writing concise and to the point.
The Conclusion
The conclusion should wrap things up and make a lasting impression to the reader.
Repetitive Words
One of the most common writing mistakes is using the same word often in a piece. Sometimes this can't be helped, but other times repeating the same words or phrases is an indication that you're struggling to communicate. In this case, the thesaurus is your friend, use it.
Tip: Read your piece out loud, then cut down or replace frequently used words. When writing, ask yourself if you've already made this statement before in your piece.
Misused Words
Writing is about choosing the right words to convey your meaning or idea.
One common mistake is when people use "less" when they should be using "fewer." As in, "I have less readers than I did when this post was published"—it should be "fewer." Use "fewer" when you can count whatever you're referring to (in this case, readers) and "less" when you can't, such as less readership or audience. Similarly, you'd say "less water" (not countable) but "fewer raindrops" (countable).
Verb tense
There are multiple tenses beyond past, present, and future. Be careful not to mix up simple past tense (I danced all night) and past perfect tense (I had danced all night).
Adjectives vs. adverbs
People don't run quick; they run quickly. The word quick is an adjective; quickly is an adverb.
Tip: Make sure you're using adverbs to modify verbs and adjectives to modify nouns.
Subject-verb agreement
The subject of a sentence needs to match the verb. Due to verb conjugation, this is especially tricky for people who speak English as a second language and for tots who are learning to speak. Here's an example of a common mistake: She have two cats. The verb have does not go with the subject she. It should be She has two cats.
Proper Nouns
Only proper nouns are capitalized.
Contractions
Should've, could've, would've. The "ve" is short for "have." These words are contractions for "should have," "could have," and "would have.
Consistency
Consistency is crucial. Always strive to be consistent. Keeping a reference book, or style guide handy will be a big help.
Grammar and Punctuation Mistakes
Homophones
Homophones are words that sound the same, but have different spelling and different meaning. Homophones are problematic because your spell check won't catch them, so they can be difficult to catch. Learn proper usage and proofread carefully.
Some examples of homophones are:
Right and write
They're, their, or there.
Apostrophes
It's and its
With the apostrophe means it is.
You and you're
Without the apostrophe means you are. Without the apostrophe means you own something.
Comma
Commas: the comma is one of the most common punctuation marks and the most misused. It's a tricky one because the rules are scarce, leaving usage up to style guides and writers' best judgement. In weak writing, there are too few or too many commas. Be consistent in how you use commas and strike the right balance.
Semicolon
Semicolons should be used to connect two complete thoughts together. Think of it as more of a pause than a comma, but less of a hard stop than a period. Be sure that before and after the semicolon are two complete thoughts (with subject and verb).
Example: I hate commas; but I love semicolons.
Commas can be tricky. The question is: should you use the Oxford comma (serial comma) or not? The Oxford comma is the comma that's added before the last item in a list.
Example: "A, B, and C" follows the Oxford comma rule. "A, B and C" does not follow this rule.
Here's an example of the importance of a comma: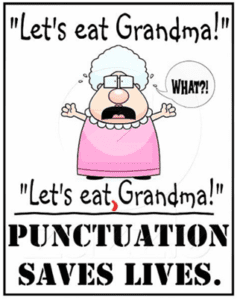 For more Information on Writing & Editing Help
If you would like more information on writing and editing read below for Reference Books on this topic.
Reference Books
The following is a list of reference books that we recommend you keep handy for writing.
Disclaimer: We use affiliate links on our website. As an Amazon Associate I earn from qualifying purchases.
The Elements of Style (4th Edition)
by William Strunk Jr.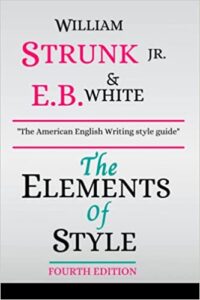 You know the authors' names. You recognize the title. You've probably used this book yourself. This is The Elements of Style, the classic style manual, now in a fourth edition. A new Foreword by Roger Angell reminds readers that the advice of Strunk & White is as valuable today as when it was first offered. This book's unique tone, wit and charm have conveyed the principles of English style to millions of readers. Use the fourth edition of "the little book" to make a big impact with writing.
We all know the basics of punctuation. Or do we? A look at most neighborhood signage tells a different story. Through sloppy usage and low standards on the internet, in email, and now text messages, we have made proper punctuation an endangered species. In Eats, Shoots & Leaves, former editor Lynne Truss dares to say, in her delightfully urbane, witty, and very English way, that it is time to look at our commas and semicolons and see them as the wonderful and necessary things they are. This is a book for people who love punctuation and get upset when it is mishandled. From the invention of the question mark in the time of Charlemagne to George Orwell shunning the semicolon, this lively history makes a powerful case for the preservation of a system of printing conventions that is much too subtle to be mucked about with.
Woe Is I: The Grammarphobe's Guide to Better English in Plain English (Fourth Edition)
by Patricia T. O'Conner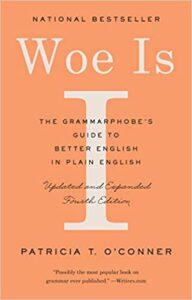 A revised and updated edition of the iconic grammar guide for the 21st century.
In this expanded and updated edition of Woe Is I, former editor at The New York Times Book Review Patricia T. O'Conner unties the knottiest grammar tangles with the same insight and humor that have charmed and enlightened readers of previous editions for years. With fresh insights into the rights, wrongs, and maybes of English grammar and usage, O'Conner offers in Woe Is I down-to-earth explanations and plain-English solutions to the language mysteries that bedevil all of us.
by Verlyn Klinkenborg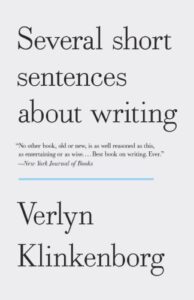 Most of what you think you know about writing is useless. It's the harmful debris of your education—a mixture of half-truths, myths, and false assumptions that prevents you from writing well. Drawing on years of experience as a writer and teacher of writing, Verlyn Klinkenborg offers an approach to writing that will change the way you work and think. There is no gospel, no orthodoxy, no dogma in this book. What you'll find here isn't the way to write. Instead, you'll find a way to clear your mind of illusions about writing and discover how you write.
Several Short Sentences About Writing is a book of first steps and experiments. They will revolutionize the way you think and perceive, and they will change forever the sense of your own authority as a writer. This is a book full of learning, but it's also a book full of unlearning—a way to recover the vivid, rhythmic, poetic sense of language you once possessed.
An indispensable and unique book that will give you a clear understanding of how to think about what you do when you write and how to improve the quality of your writing.
Several short sentences about writing
Write Right!: A Desktop Digest of Punctuation, Grammar, and Style
by Jan Venolia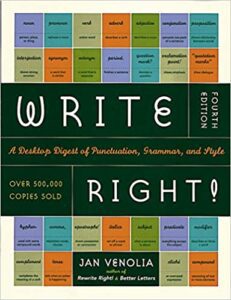 The newest edition of Jan Venolia's best-selling guide, Write Right! is an essential resource for writers with 500,000+ copies sold since publication.

In this age of electronic correspondence and self-produced documents, we need a useful and reliable writing guide more than ever. Write Right! covers the essentials of good writing in a concise and easy-to-follow format. The new edition of this classic handbook takes you through the entire writing process, from understanding the parts of speech to constructing a correct sentence to fine-tuning the mechanics. And with clever drawings and amusing quotations to illustrate its points, Write Right! shows that language can be fun as well as an effective communication tool. Whether it's used to find a quick answer to a nagging question or to develop stronger writing skills, this handy reference is the ideal resource for writers of all levels.
Includes a resource section with a list of helpful websites and a glossary to quickly define difficult terms.
Leech, Cruickshank, And Ivanic's
An A-Z of English Grammar & Usage
by Geoffrey R. Leech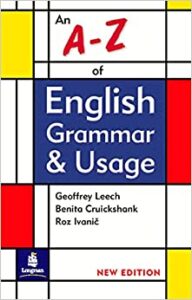 This thoroughly revised edition provides teachers and learners of English with a unique, up-to-date reference grammar in an easy-to-use dictionary-like format. Uses a dictionary-like format. More accessible for English as a second language readers. Focuses on the words and phrases, not the rules.