Whether you're in a relationship or not, we have a comprehensive list of romance novels for your reading enjoyment either on Valentine's Day or anytime during the year. We've researched and reviewed these novels and we're confident that you will find something you like in this list.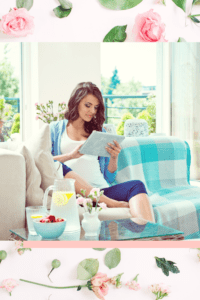 If you're a sucker for a romantic love story you've come to the right place. We have steamy romance and love stories that will make you want to laugh and cry out loud. There are even stories with amazing romantic destinations to transport you to Italy, France and Spain. Now is the time to sit back, grab a beverage and enjoy a good read.
Note: If you don't want to wait for the book to be delivered, you can always read it immediately on Amazon Kindle. For more information on Kindle, Kindle Unlimited, Kindle Audible and Kindle e-Readers scroll to the bottom of this post.
Disclaimer: As an Amazon Associate I earn from qualifying purchases.
Owen Nicholls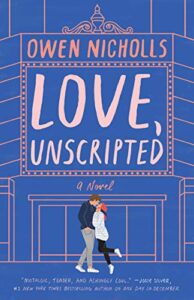 "Nostalgic, tender, and achingly cool."—Josie Silver, #1 New York Times bestselling author of One Day in December
A film-obsessed romantic rewrites the script to understand why his "picture-perfect" love story crashed and burned in this wonderfully clever debut.
Nick always fancied himself the Tom Hanks of his own romantic comedy, and when sparks flew with Ellie that night, he swiftly cast her as the Meg Ryan of his story. For four blissful years, Nick loved Ellie just as he loved his job as a film projectionist: wholly, earnestly, cinematically. But now Ellie has moved out, convinced that "the fire's gone," and Nick is forced to sift through his memories to figure out where it all went wrong. Was he really the rom-com hero he believes he'd been? Or did this Harry let his Sally down? Peppered with references to beloved movies, Love, Unscripted explores how even a hopeless romantic can learn that in real life, love isn't—shouldn't be—like what we see in the movies.
Josie Silver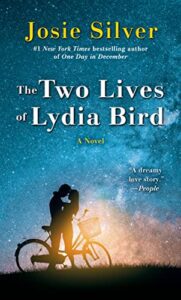 Two lives. Two loves. One impossible choice. From the #1 New York Times bestselling author of the Reese's Book Club Pick One Day in December . . .

"I read The Two Lives of Lydia Bird in a single sitting. What a beautiful, emotional gift Josie Silver has given us."—Jodi Picoult
Written with Josie Silver's trademark warmth and wit, The Two Lives of Lydia Bird is a powerful and thrilling love story about the what-ifs that arise at life's crossroads, and what happens when one woman is given a miraculous chance to answer them.

Lydia and Freddie. Freddie and Lydia. They'd been together for more than a decade and Lydia thought their love was indestructible. But she was wrong. On Lydia's twenty-eighth birthday, Freddie died in a car accident.
Mia Sosa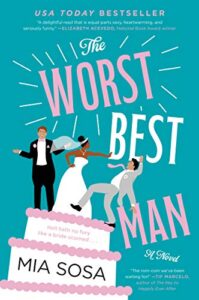 USA TODAY BESTSELLER!
"A romantic comedy that's fun and flirty, young and fresh." – PopSugar
Named one of the Best Romances of 2020 by EW, OprahMag, Buzzfeed, Insider, and NPR!
Mia Sosa delivers a sassy, steamy #ownvoices enemies-to-lovers novel, perfect for fans of Jasmine Guillory, Helen Hoang, and Sally Thorne!
"The Worst Best Man is rom-com perfection. . . Sosa has a gift with words that's infectious and wry, one that keeps the pages turning in delight." –Entertainment Weekly
A wedding planner left at the altar? Yeah, the irony isn't lost on Carolina Santos, either. But despite that embarrassing blip from her past, Lina's offered an opportunity that could change her life. There's just one hitch… she has to collaborate with the best (make that worst) man from her own failed nuptials.
Christina Lauren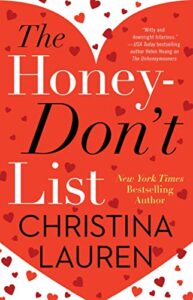 From the New York Times bestselling author behind the "joyful, warm, touching" (Jasmine Guillory, New York Times bestselling author) The Unhoneymooners comes a delightfully charming love story about what happens when two assistants tasked with keeping a rocky relationship from explosion start to feel sparks of their own.
Carey Duncan has worked for home remodeling and design gurus Melissa and Rusty Tripp for nearly a decade. A country girl at heart, Carey started in their first store at sixteen, and—more than anyone would suspect—has helped them build an empire. With a new show and a book about to launch, the Tripps are on the verge of superstardom. There's only one problem: America's favorite couple can't stand each other.
From the "hilariously zany and heartfelt" (Booklist) Christina Lauren comes a romantic comedy that proves if it's broke, you might as well fix it.
Tessa Bailey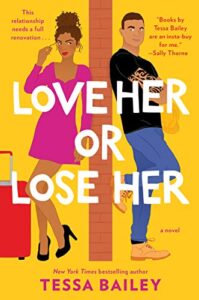 "Her voice feels as fresh and contemporary as a Netflix rom-com." —Entertainment Weekly
*Named one of the Best Romances of 2020 by Insider and Oprah Magazine + Marie Claire's Best New Books of 2020*
The #1 New York Times bestselling author of It Happened One Summer and Hook, Line, and Sinker returns with a unique, sexy rom-com about a young married couple whose rocky relationship needs a serious renovation…
Rosie and Dominic Vega are the perfect couple: high school sweethearts, best friends, madly in love. Well, they used to be anyway. Now Rosie's lucky to get a caveman grunt from the ex-soldier every time she walks in the door. Dom is faithful and a great provider, but the man she fell in love with ten years ago is nowhere to be found. When her girlfriends encourage Rosie to demand more out of life and pursue her dream of opening a restaurant, she decides to demand more out of love, too. Three words: marriage boot camp.
As they complete one ridiculous—yet surprisingly helpful—assignment after another, their remodeled relationship gets stronger than ever. Except just as they're getting back on track, Rosie discovers Dom has a secret… and it could demolish everything.
Marie Harte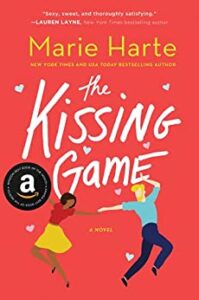 *An Amazon Editors' Pick for Best Book of the Month*
"I bet you a kiss you can't resist me."
Game on. At six foot six, Axel Heller knows he intimidates most people. He's been crushing on the gorgeous waitress, Rena Jackson, for months. But the muscled mechanic is no romantic, and his heart is buried so deep, he has no idea how to show Rena what he feels. He knows he's way out of his depth and she's slipping away. So, he makes one crazy, desperate play…
With Valentine's Day just around the corner, Rena decides it's time to forget about Axel and find her own Mr. Right. But that's when Axel makes her a bet that involves the steamiest kiss she's ever had…
Jasmine Guillory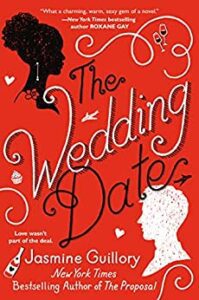 A groomsman and his last-minute guest are about to discover if a fake date can go the distance in this fun and flirty multicultural romance debut by
New York Times
bestselling author Jasmine Guillory—author of the Resse Witherspoon x Hello Sunshine Book Club Pick
The Proposal
.

THE
USA TODAY
BESTSELLER
#5 LibraryReads Pick
"A swoony rom-com brimming with humor and charm."—
Entertainment Weekly
(The Must List)
"
What a charming, warm, sexy gem of a novel….One of the best books I've read in a while.
"—
Roxane Gay,
New York Times
bestselling author of
Hunger

Agreeing to go to a wedding with a guy she gets stuck with in an elevator is something Alexa Monroe wouldn't normally do. But there's something about Drew Nichols that's too hard to resist.On the eve of his ex's wedding festivities, Drew is minus a plus one. Until a power outage strands him with the perfect candidate for a fake girlfriend….
There are six books in this series.
Lauren Layne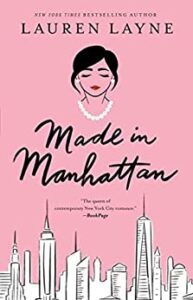 From the New York Times bestselling author of the Central Park Pact comes a reverse My Fair Lady for the modern era about a pampered and privileged Manhattan socialite who must teach an unpolished and denim-loving nobody from the Louisiana Bayou how to fit in with the upper crust of New York City. Perfect for fans of Christina Lauren and Sally Thorne.
Violet Townsend has always been a people pleaser. Raised in the privileged world of Upper East Side Manhattan, she always says the right things, wears the right clothes, and never rocks the boat. Violet would do anything for the people closest to her, especially her beloved grandmother. So when she asks Violet to teach the newly-discovered grandson of her friend how to fit in with New York City's elite, Violet immediately agrees. Her goal? To get Cain Stone ready to take his place as heir to his family company…but to say he's not exactly an eager student is an understatement.
Taylor Jenkins Reid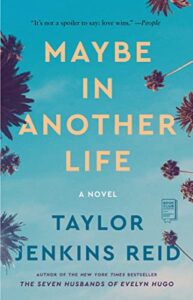 From the New York Times bestselling author of The Seven Husbands of Evelyn Hugo
A People Magazine Pick * US Weekly "Must" Pick * Named "Best Book of the Summer" by Glamour * Good Housekeeping * USA TODAY * Cosmopolitan * PopSugar * Working Mother * Bustle * Goodreads
A breathtaking new novel about a young woman whose fate hinges on the choice she makes after bumping into an old flame; in alternating chapters, we see two possible scenarios unfold—with stunningly different results.
At twenty-nine, Hannah Martin still has no idea what she wants to do with her life. She's lived in six different cities and held countless meaningless jobs since graduating college. Hannah moves back to her hometown of Los Angeles and takes up residence in her best friend Gabby's guestroom. Shortly after getting back to town, Hannah goes out to a bar one night with Gabby and meets up with her high school boyfriend, Ethan.
In concurrent storylines, Hannah lives out the effects of each decision. Quickly, these parallel universes develop into radically different stories with large-scale consequences for Hannah, as well as the people around her. As the two alternate realities run their course, Maybe in Another Life raises questions about fate and true love: Is anything meant to be? How much in our life is determined by chance? And perhaps, most compellingly: Is there such a thing as a soul mate?
JoJo Moyes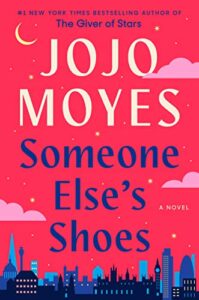 "Very few authors have the power to make you laugh on one page and cry on the next. Moyes is one of them." —The New York Times
A story of mix-ups, mess-ups and making the most of second chances, this is the new novel from #1 New York Times bestselling author Jojo Moyes, author of Me Before You and The Giver of Stars
Who are you when you are forced to walk in someone else's shoes? Nisha Cantor lives the globetrotting life of the seriously wealthy, until her husband announces a divorce and cuts her off. Nisha is determined to hang onto her glamorous life. But in the meantime, she must scramble to cope–she doesn't even have the shoes she was, until a moment ago, standing in.
Full of Jojo Moyes' signature humor, brilliant storytelling, and warmth, Someone Else's Shoes is a story about how just one little thing can suddenly change everything.
Annabelle McCormack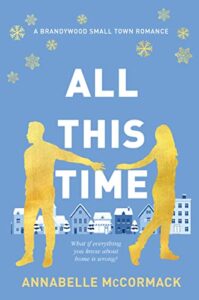 What if everything you knew about home was wrong? This holiday season things are heating up in this sexy and heartfelt romance about coming home, facing the past, and finding hope.
Lifestyle photographer Samantha Redding left her home years ago with no desire to come back. Small town life in Brandywood, Maryland is too full of hurtful gossip, overblown feuds, and bad memories. But when her mom gets sick, Sam's holiday visit with family turns into a longer term stay she wasn't prepared for.
A contemporary romance with steamy, open-door romance and tear-jerking moments about emotional wounds and finding forgiveness, All This Time is the first book in the Brandywood Small Town Romance Series.
Harriet Evans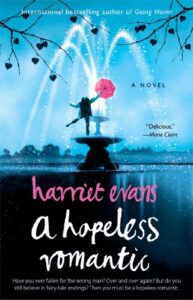 From the bestselling author of Going Home, which Sophie Kinsella hailed as "fabulous," comes a novel sure to touch and delight anyone who believes in love.
Laura Foster is a hopeless romantic. Her friends know it, her parents know it—even Laura acknowledges she lives either with her head in the clouds or buried in a romance novel. It's proved harmless enough, even if it hasn't delivered her a real-life dashing hero yet. But when her latest relationship ends in a disaster that costs her friendships, her job, and nearly her sanity, Laura swears off men and hopeless romantic fantasies for good.
With her life in tatters around her, Laura agrees to go on vacation with her parents. After a few days of visiting craft shops and touring the stately homes of England, Laura is ready to tear her hair out. And then, while visiting grand Chartley Hall, she crosses paths with Nick, the sexy, rugged estate manager. She finds she shares more than a sense of humor with him—in fact, she starts to think she could fall for him. But is Nick all he seems? Or has Laura got it wrong again? Will she open her heart only to have it broken again?
Robyn Carr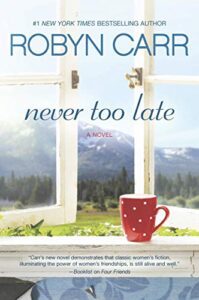 Author of The Best of Us.
#1 New York Times bestselling author Robyn Carr examines the lives of three sisters as they step beyond the roles of wife, mother, daughter and discover the importance of being a woman first.
Clare Wilson is starting over. She's had it with her marriage to a charming serial cheater. Even her own son thinks she's given his father too many chances. With the support of her sisters, Maggie and Sarah, she's ready to move on. Facing her fortieth birthday, Clare is finally feeling the rush of unadulterated freedom.

Together, the sisters encourage each other to seek what they need to be happy. Along the way they all learn that it's never too late to begin again.
Ali Hazelwood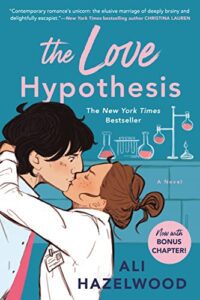 The Instant New York Times Bestseller and TikTok Sensation!

As seen on THE VIEW!

When a fake relationship between scientists meets the irresistible force of attraction, it throws one woman's carefully calculated theories on love into chaos.

As a third-year Ph.D. candidate, Olive Smith doesn't believe in lasting romantic relationships–but her best friend does, and that's what got her into this situation. Convincing Anh that Olive is dating and well on her way to a happily ever after was always going to take more than hand-wavy Jedi mind tricks: Scientists require proof. So, like any self-respecting biologist, Olive panics and kisses the first man she sees.

That man is none other than Adam Carlsen, a young hotshot professor–and well-known ass. Which is why Olive is positively floored when Stanford's reigning lab tyrant agrees to keep her charade a secret and be her fake boyfriend. But when a big science conference goes haywire, putting Olive's career on the Bunsen burner, Adam surprises her again with his unyielding support and even more unyielding…six-pack abs.

Suddenly their little experiment feels dangerously close to combustion. And Olive discovers that the only thing more complicated than a hypothesis on love is putting her own heart under the microscope.
Samantha Young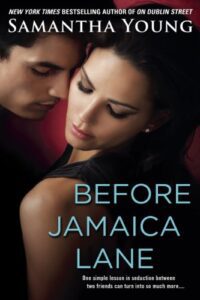 Author of Dublin Street and Down London Road.
The follow-up to the runaway bestsellers ON DUBLIN STREET and DOWN LONDON ROAD

Despite her outgoing demeanor, Olivia is painfully insecure around the opposite sex—usually, she can't get up the nerve to approach guys she's interested in. But moving to Edinburgh has given her a new start, and, after she develops a crush on a sexy postgrad, she decides it's time to push past her fears and go after what she wants.

Nate Sawyer is a gorgeous player who never commits, but to his close friends, he's as loyal as they come. So when Olivia turns to him with her relationship woes, he offers to instruct her in the art of flirting and to help her become more sexually confident.

The friendly education in seduction soon grows into an intense and hot romance. But then Nate's past and commitment issues rear their ugly heads, and Olivia is left brokenhearted. When Nate realizes he's made the biggest mistake of his life, he will have to work harder than he ever has before to entice his best friend into falling back in love with him—or he may lose her forever….
Christina Lauren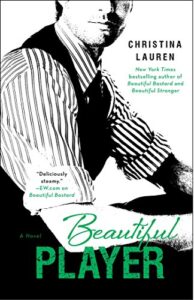 In the third book in the Beautiful Bastard series, an agreement between a venture capitalist and a bookish woman quickly becomes a very NSFW version of My Fair Lady.

A bombshell bookworm. A chronic Casanova. And a lesson in chemistry too scandalous for school.

When Hanna Bergstrom receives a lecture from her overprotective brother about neglecting her social life and burying herself in grad school, she's determined to tackle his implied assignment: get out, make friends, start dating. And who better to turn her into the sultry siren every man wants than her brother's gorgeous best friend, Will Sumner, venture capitalist and unapologetic playboy?

Will takes risks for a living, but he's skeptical about this challenge of Hanna's…until the wild night his innocently seductive pupil tempts him into bed- and teaches him a thing or two about being with a woman he can't forget. Now that Hanna's discovered the power of her own sex appeal, it's up to Will to prove he's the only man she'll ever need.
European Romance
Sophie Kinsella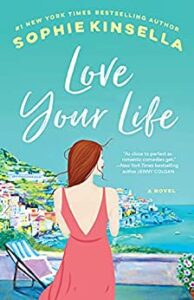 Sophie Kinsella is the queen of modern romance. In this novel the protagonist goes on a whirlwind European romance in remote coastal Italy. I can't wait to read this one. It magically transports you to gorgeous locations in Italy.
From the #1 New York Times bestselling author of The Party Crasher, an utterly delightful novel about a woman who ditches her dating app for a writer's retreat in Italy—only to find that real love comes with its own filters

"Sophie Kinsella keeps her finger on the cultural pulse, while leaving me giddy with laughter."—Jojo Moyes, author of The Giver of Stars and The Last Letter from Your Lover

Call Ava romantic, but she thinks love should be found in the real world, not on apps that filter men by height, job, or astrological sign. She believes in feelings, not algorithms. So after a recent breakup and dating app debacle, she decides to put love on hold and escapes to a remote writers' retreat in coastal Italy. She's determined to finish writing the novel she's been fantasizing about, even though it means leaving her close-knit group of friends and her precious dog, Harold, behind.


Kati Marton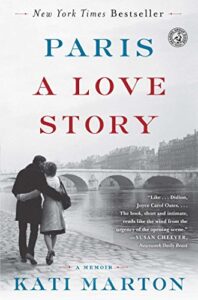 This is a memoir for anyone who has ever fallen in love in Paris, or with Paris.

This is also for anyone who has ever had their heart broken or their life upended.

In this remarkably honest and candid memoir, award-winning journalist and distinguished author Kati Marton narrates an impassioned and romantic story of love, loss, and life after loss. Paris is at the heart of this deeply moving account. At every stage of her life, Marton finds beauty and excitement in Paris, and now, after the sudden death of her husband, Richard Holbrooke, the city offers a chance for a fresh beginning. With intimate and nuanced portraits of Peter Jennings, the man to whom she was married for fifteen years and with whom she had two children, and Holbrooke, with whom she found enduring love, Marton paints a vivid account of an adventuresome life in the stream of history. Inspirational and deeply human, Paris: A Love Story will touch every generation.
Rebecca Serle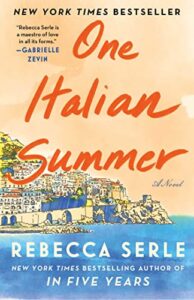 This is a New York Times Bestselling author of In Five Years.
INSTANT NEW YORK TIMES BESTSELLER

"[A] magical trip worth taking." —Associated Press

"Rebecca Serle is a maestro of love in all its forms." —Gabrielle Zevin, New York Times bestselling author

The New York Times bestselling author of In Five Years returns with a powerful novel about the transformational love between mothers and daughters set on the breathtaking Amalfi Coast.

When Katy's mother dies, she is left reeling. Carol wasn't just Katy's mom, but her best friend and first phone call. She had all the answers and now, when Katy needs her the most, she is gone. To make matters worse, their planned mother-daughter trip of a lifetime looms: to Positano, the magical town where Carol spent the summer right before she met Katy's father. Katy has been waiting years for Carol to take her, and now she is faced with embarking on the adventure alone.

But as soon as she steps foot on the Amalfi Coast, Katy begins to feel her mother's spirit. Buoyed by the stunning waters, beautiful cliffsides, delightful residents, and, of course, delectable food, Katy feels herself coming back to life.

Rebecca Serle's next great love story is here, and this time it's between a mother and a daughter. With her signature "heartbreaking, redemptive, and authentic" (Jamie Ford, New York Times bestselling author) prose, Serle has crafted a transcendent novel about how we move on after loss, and how the people we love never truly leave us.
Elena Armas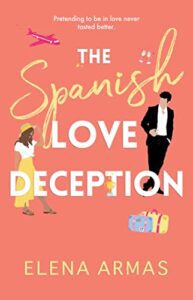 A NEW YORK TIMES BESTSELLER

A TikTok sensation, this rom-com about a young woman who agrees to fake date a colleague and bring him to her sister's wedding has "everything you could want in a romance" (Helen Hoang, New York Times bestselling author).

Catalina Martín desperately needs a date to her sister's wedding. Especially since her little white lie about her American boyfriend has spiralled out of control. Now everyone she knows—including her ex and his fiancée—will be there and eager to meet him.

She only has four weeks to find someone willing to cross the Atlantic and aid in her deception. New York to Spain is no short flight and her raucous family won't be easy to fool.

Enter Aaron Blackford—her tall, handsome, condescending colleague—who surprisingly offers to step in. She'd rather refuse; never has there been a more aggravating, blood-boiling, and insufferable man.