This trend of moving away from technology to embrace low tech, standard typewriters has been happening for some time now and doesn't show any signs of changing. Of course, you can never replace a computer with a vintage, standard typewriter. However, typewriters have not only withstood the test of time, but they have a unique history and aura attached to them. The typewriter is one of the most revolutionary inventions in history. It gave writers speed and it brought a multitude of jobs to women.
Typewriter fans are rebelling against the digital age to embrace a vintage typewriter where they can bang out a message. Nothing beats the tactile feel of the typewriter under your fingertips with the clickety clack sound that is pleasing to the ear. Not to mention they are an amazing machine to look at with different designs, colors and fonts.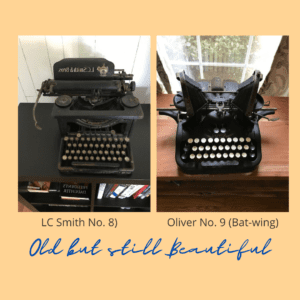 Security
Some fans of the typewriter rightly point out that a typewriter doesn't have security issues like a computer has. Someone can hack into your computer and cause a lot of damage and disruption, but that can't happen with a typewriter. Also, manual typewriters do not require electricity or the internet to work. If you've ever lost power in the middle of writing something on your computer, you'll appreciate this. Movie stars like Tom Hanks and Lady Gaga love their typewriters and the designs of these typewriters are gorgeous. It's akin to collecting vintage cars because they look and feel so beautiful. Hanks bought a Hermes 2000 at the young age of 19. This was the first typewriter in a large collection of more than 100 typewriters that he would collect over the years.
Vintage Typewriters
However, you don't have to be wealthy or a movie star to collect them. They cost a lot less than a vintage car. I own an Oliver 9, also known as a Bat-wing. The Oliver 9 was made from 1916 to 1922. She may be old, but she's still a beauty. I also own an Olivetti Lettera 44 and an L.C. Smith No. 8, which was made in 1915 – 1936. They all have their own unique charm.
These are the reasons that I started collecting typewriters and typewriter manuals. As a writer, I see the importance of having this information at your fingertips and I wanted to share it with as many people as possible. These are historical machines and documents that we need to preserve as much as possible. When you own one of these machines you will soon be searching for the manual that goes along with it.
Typewriter Manuals
To check out our Typewriter Manuals click here.
If you would like to see a certain typewriter manual and you can't find it. Please let us know.
To learn more about Tom Hanks as a collector, click here.
Reference Books
Some books that we recommend on this topic are:
The history of typewriter Being an illustrated account of the origin rise and devlopment of the writing machine 1909 [Premium Leather Edition] by Geo. Carl Mares
A Unique Leather Bound book for elite readers/collectors of old rare books. An Original Leather is being used for binding this book with Golden Leaf Printing and designing on Spine, front and Back of the book with edge gilding. We have multiple options in color of leather Red, Green, Blue, Black and with Black labels. Original edition was published in [1909] and this unique edition is Reprinted in 2015 with the help of original edition. 
Typewriter Is Holy: The Complete, Uncensored History of the Beat Generation by Morgan, Bill
Anyone who cares to understand the cultural ferment of America in the later twentieth century must know of the writings and lives of those scruffy bohemians known as the Beats.
In this highly entertaining work, Bill Morgan, the country's leading authority on the movement and a man who personally knew most of the Beat writers, narrates their history, tracing their origins in the 1940s to their influence on the social upheaval of the 1960s.
The Typewriter Revolution: A Typist's Companion for the 21st Century by Richard Polt
Revolution documents the movement and provides practical advice on how to choose a typewriter, how to care for it, and what to do with it―from National Novel Writing Month to letter-writing socials, from type-ins to typewritten blogs, from custom-painted typewriters to typewriter tattoos. It celebrates the unique quality of everything typewriter, fully illustrated with photographs, posters, postcards, manuals, and more.
Collector's Book
If you're looking for a collector's book on this topic. This is an signed first edition signed by the author, Tom Hanks. Yes, that's Tom Hanks the famous actor.
UNCOMMON TYPE by HANKS, Tom
Signed First Edition. As new. An unread copy flat signed in blue felt tip pen (not on a bookplate) by Hanks to the title page.